Santa Venera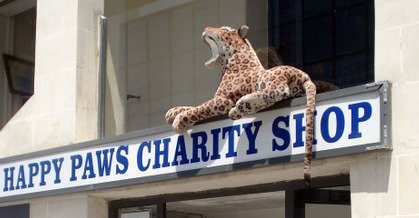 THE HAPPY PAWS CHARITY SHOP AND BOOK-TIQUE
TRIQ IL-KAPPILLAN MIFSUD, OPPOSITE THE LIDL
OPENING TIMES
9 am till 2pm.
Sundays closed
tel: 79518051
CLOTHES,

SHOES,

BOOKS,

ARTS,

COLLECTABLES AND

DESIGNER ITEMS.
Happy Paws is mainly funded by selling your donations in our charity shops.
DEAR SHOP DONATORS:
Please do not leave bags and other stuff in front of our shops when we are closed, but put them in the drop box. Thank you.
We welcome your clothing, ornaments, books, paintings, shoes, bedlinnen, china, toys, house hold goods, small furniture, preferably in good and clean condition, and even old towels, sheets and blankets (for use in the clinic). Please drop off your donations in our shops rather than in the Clinic.
HAVE A LOOK AROUND THE SHOP: