What we do booklet....
many "PAWS" in Malta ...but only ONE HAPPY PAWS...
Welcome to Happy Paws Charity Organisation. Your partner in stray animal care.
We believe the only way to control stray dog and cat overpopulation and the killing of adoptable animals, is by decreasing birth rates.
Read More
"Helping People to help Animals"
The Happy Paws Animal Clinic
The only dedicated spay- and neuter clinic of its kind in Malta.
The heart of our Organisation, where we run our free Stray neutering campaign and take care of your private pets.
Read More
The Clinic in Marsa
41, Cross Road, Marsa (the former Mid Med Bank)
Free Neutering
We offer FREE! neutering of STRAY animals for our Team Card holders!
read more
Dr. Louise and assistant at work in our Clinic
Adoption Scheme
217 dogs and 44 cats have now found a loving home through our Adoption Scheme.
read more
By adopting a Rescue animal from a sanctuary, more places will become available in these sanctuaries for strays still living on the streets.
The Happy Paws Charity Shops
We operate Charity Shops in Santa Venera/Hamrun and in Marsaskala.
Happy Paws is mainly funded by selling your donations in our charity shops.
Our Santa Venera/Hamrun Shop
Triq IL-Kappillan Mifsud, opposite the LIDL.
Volunteering
Volunteers are vital to our Charity
read more
Even if you can only spare a few hours a week you are most welcome to join us!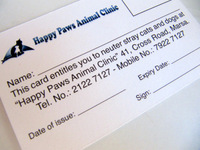 Get to know about some of our other activities